Engagement Begins with the Basics
– How to Introduce the Basics in 5 Steps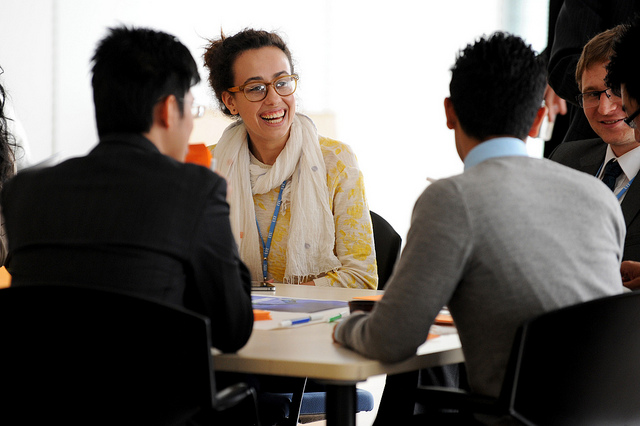 Role Clarity
Developing a positive work culture that maintains an engaged and thriving workforce begins with doing the basics well. By adopting some procedures and practices that ensure role clarity, accountability and recognition, you will be well on your way. The following five ingredients for success are designed to ensure understanding, alignment, and commitment.
1. Position Description – A good position description will provide the WHY, or the purpose of the role.
It gives a summary of the role and its main objectives or Key Result Areas, which should also reflect the objectives of the position holder's department and business. The Key Result Areas provide information for the SMART objectives and key performance indicators. Note that handling ambiguity is a key skill for many roles, especially key senior executives. However, for most people, knowing what they are accountable for and how it aligns with other roles allows them to achieve success.
2. SMART objectives – SMART objectives are required to ensure the key objectives of your role are being achieved. SMART objectives should be alive and flexible to adopt and adapt to changing business needs. These objectives should always be up to date; revising them should be an essential element of the ongoing performance conversation. The key attributes are to be:
Specific: What exactly do you want to achieve? Where? How? When? Why?
Measurable: Break your objectives into measurable elements or sub-goals. What does it look like, sound like and feel like? How do you know?
Attainable: Is the goal acceptable to you and the business? Do you have the resources and drive to obtain it?
Relevant: Is the goal relevant to your overall business purpose and objectives?
Timely: Are the timelines realistic and, within reason, flexible?
3. Ongoing performance dialogue – An ongoing conversation about performance, progress, and relevance of objectives is essential to remaining on top of your accountabilities. We recommend a 30-minute one on one conversation between managers and a direct report each month (minimum 9 per year) to ensure performance is on track or exceeding expectations. A few notes detailing major achievements, roadblocks, and resource issues will ensure relevance of objectives and mitigate underperformance. The monthly formal conversations will assist with ensuring that the informal conversations are informed and focused.
4. Development – The monthly performance conversations can also be used to identify and agree upon development needs and solutions. In this way individuals can be encouraged to take responsibility for enhancing their own skill sets and competencies. Remember, pursuing development in areas of strengths can add much more value than pursuing areas of weakness that are not mission critical.
5. Recognition and Reward – Recognising success is essential to developing a positive culture. The form of recognition is much less important than the act of acknowledgement itself. In addition, employee rewards and remuneration should be reasonable and fair while reflecting the employees' respective contribution. They should also be attainable and realistic, as an award that is impossible to gain is a serious disincentive.
Design • Implement • Support
Through our blog, we wish to give you a comprehensive insight into the world of Intrepidus HR, where our overall goal is to inspire businesses to improve themselves and their people.
Do you wish to discuss a particular business improvement topic or even contribute a guest Blog article? If yes, please contact Simon Campbell at Intrepidus Human Resource Consulting.
If you or your organisation requires input or assistance in establishing or enhancing your positive organisational culture, please contact Intrepidus Human Resources Consulting for assistance. Intrepidus can assist with the design, implementation and support of employee surveys, analysis and action plans, employee briefings, and employee communication and engagement initiatives.
Furthermore, contact Intrepidus for assistance with one on one performance feedback for teams and individuals and all your complex human work issues.
Human Resources – Industrial Relations – Recruitment
Contact or email Intrepidus with your request for human resource, industrial relations or recruitment support or any other enquiry.
Visit the Intrepidus website and sign up for our Newsletter.
See our Case Studies for more articles on HR topics handled by Intrepidus Human Resource Consulting.
Intrepidus Human Resource Consulting
Intrepidus is a human resources and industrial relations consultancy based out of Melbourne. We help clients with difficult people issues, HR & IR strategy, and more. If you want to find out how we assist with workplace issues, you can contact us at info@intrepidus.com.au or give us a ring on +61 401 716 818.